The past few years have imparted the importance of designing educational spaces that are flexible and agile. Gone are the days where metal tablet-arm chairs facing a chalkboard is the gold standard of K-12 educational design. Today's ever-changing technologies, diverse student body, and safety needs challenge the existing classroom design model.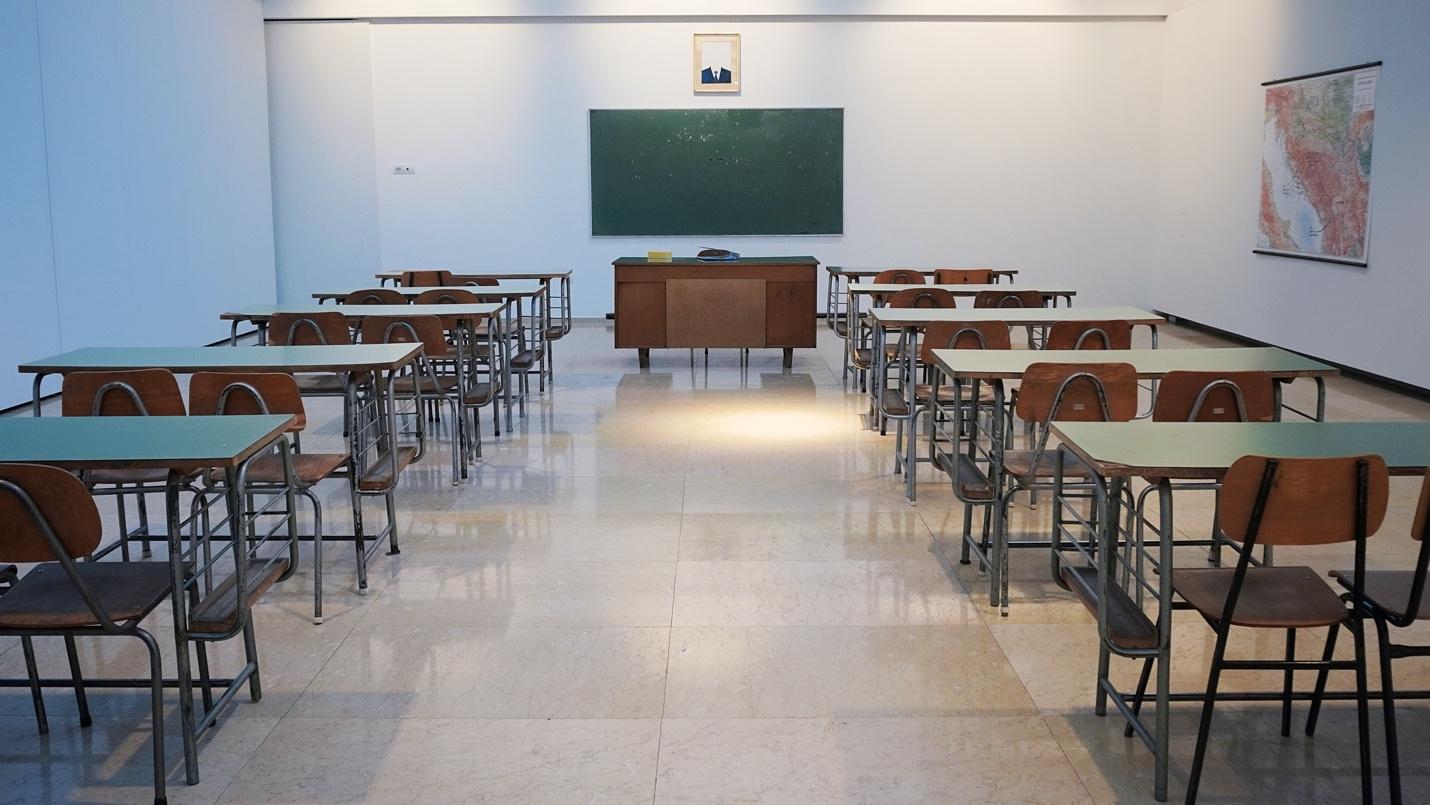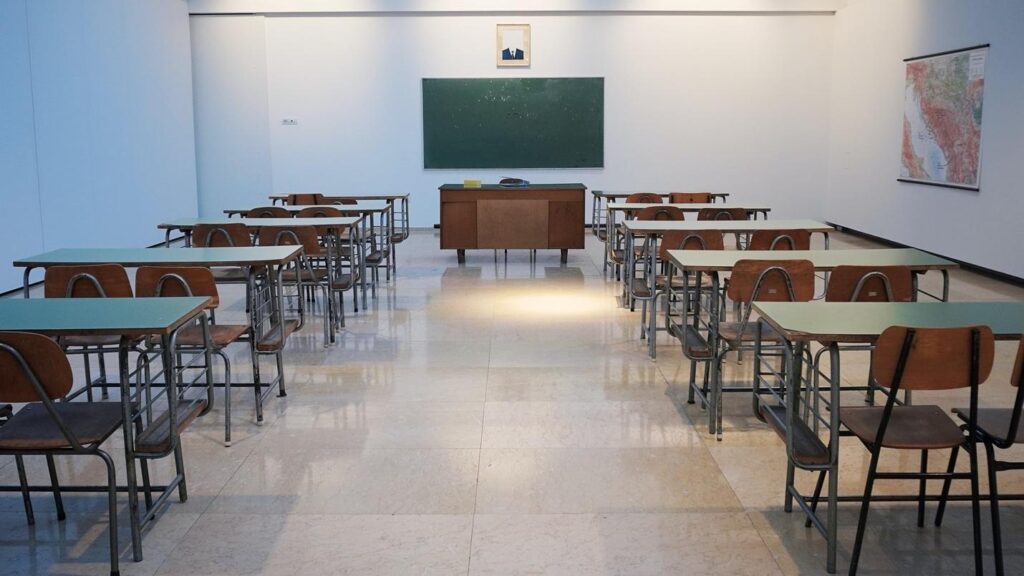 It's been well-documented that the built environment can affect cognition, memory, and behavior, so designing a classroom that positively impacts these factors is vital and is possible even in renovations. The renovation should be approached intentionally, with the right team, and should consider flexibility, activity zones, technology integration, appropriate material selection, and student wellbeing.
Flexible Solutions
Designing for flexibility is wise for any interior space, but especially for a K-12 classroom. Often in earlier grades, student remain in one classroom all day, meaning that one room has to flex with the lesson plans for all subjects, all the time. In upper-level grades, classrooms must accommodate a variety of occupants and learning activities, which may include groupwork, discussion, and individual work.
Selecting furniture that is easy to move, fits diverse body types, and is well-designed for the K-12 environment can help alleviate limitations based on furniture factors, and can help ensure that the furniture lasts beyond the current generation.
Zones of Activity
If space allows, designing zones for different activities within the classroom is ideal, especially in elementary educational spaces, where groups of students may work on different activities simultaneously. This can be achieved solely with furniture solutions and can be accomplished by providing areas that support different postures and levels of group activities. In addition to the primary learning space, perhaps incorporating a more comfortable reading area, an area that support group activities, and/or a space for individual work can reshape the utility of the classroom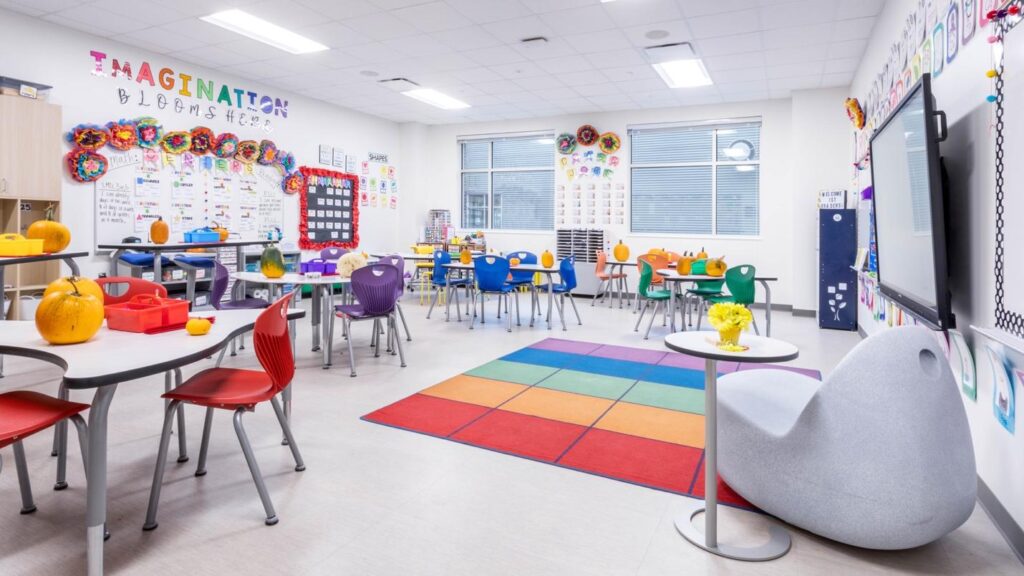 Technology Integration
Technology is ubiquitous and yet ever-changing, so selecting furniture that can flex with any type of technology is important to future-proofing your space. Be wary of any furniture solutions that only work with one particular type of technology and can't flex with different options.
Material Selection
Selecting appropriate and durable materials is one of the most important decisions to make after furniture selection. Materials should be aesthetically pleasing of course, but should also meet certain criteria for durability, flame retardancy, and application. Working with a qualified designer can help streamline this process and alleviate possibility of an inappropriate or unsafe choice.
Student Wellbeing
Learning and retention are tied closely to feelings of wellbeing—after all, it's difficult to learn material in a space that is stressful to be in. Intentionally incorporate design strategies to increase student well-being, like natural light, views of nature, material and color choice, and providing ways to be more active in the classroom are ways to increase the wellness factors in a classroom. For more information on integrating wellness-oriented design strategies in a renovation, click here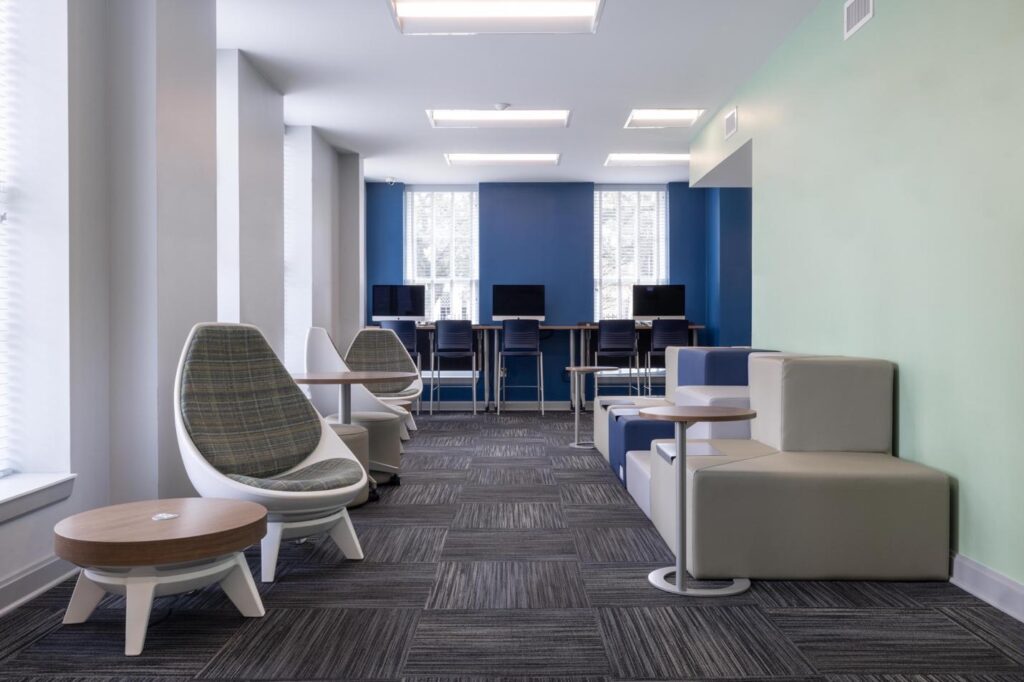 Invest Well
Desks from the 1960s are still being used, proving that furniture purchases can have long-term impact. Purchasing furniture for any non-residential space is an investment and should be approached with intention and careful planning. A good investment will serve the current generation of students but will also serves future generations as well. Don't purchase from a big-box store because it's less expensive than working with a qualified furniture dealer. The short life-cycle of big-box furniture means that it's actually much more expensive in the long run, and quite a lot of hassle to replace frequently.
For more information on design solutions for a K-12 classroom refresh or to be connected to Interior Elements, click here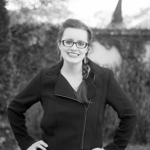 Anna Ruth Gatlin, PhD, is an award-winning interior designer and design researcher. Currently an Assistant Professor of Interior Design at Auburn University, she transitioned to full-time academia after a career practicing institutional, commercial, healthcare, and educational design.