Most schools, healthcare facilities, and offices have a place for employees to heat up lunch and make coffee. Many have a space officially allocated as the "break room." But how many have turned this highly trafficked real estate into an investment that increases group cohesion and supports a positive company culture?
Even if space is allocated throughout the building for collaboration, and touch down spaces are appropriately incorporated, the break room should be elevated beyond simply being the space where lunches are stored. It's often the hub of a company: everyone visits the break room, whether it's to wash a spoon, grab a yogurt, make coffee, or see what goodies have been left behind for the workplace community.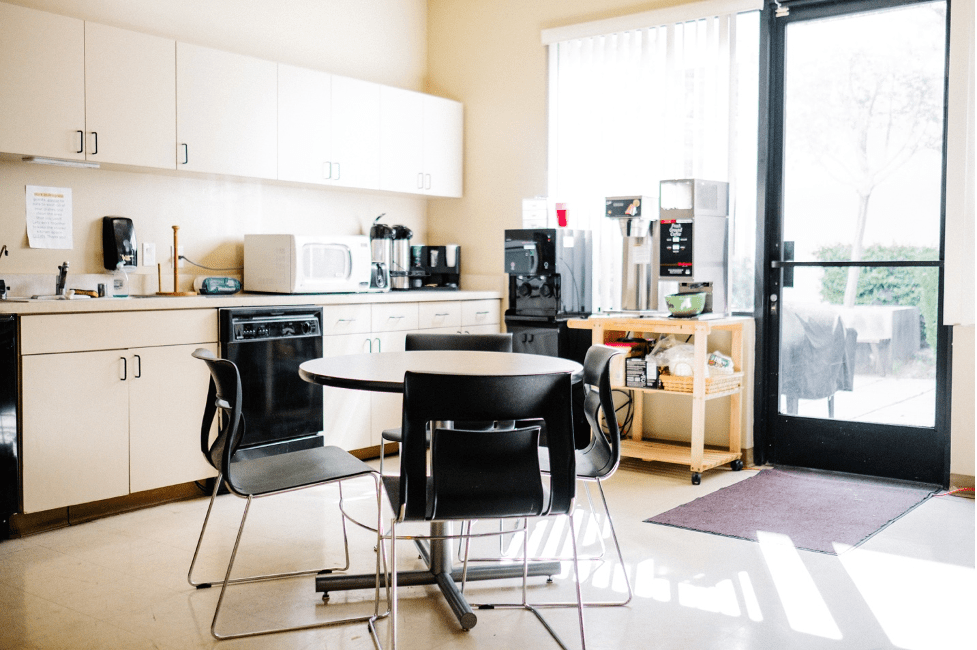 Designing an attractive and useful break room that encompasses the spirit of the company shouldn't be a stressful event. Here are a few simple ways to make the task less daunting.
Variety of seating
There's an unwritten rule that the break room should have the least comfortable seating in the building. In reality, the reverse should be true—after all, isn't "break" in its name?
Providing more comfortable seating and a variety of seating options will make the room more effective, and likely more highly utilized. Banquettes with accompanying tables and chairs give options for seating and levels of comfort while elevating the aesthetic of the space. Including some bar-height tables allow employees to perch, stand, or relax for a while eating or working.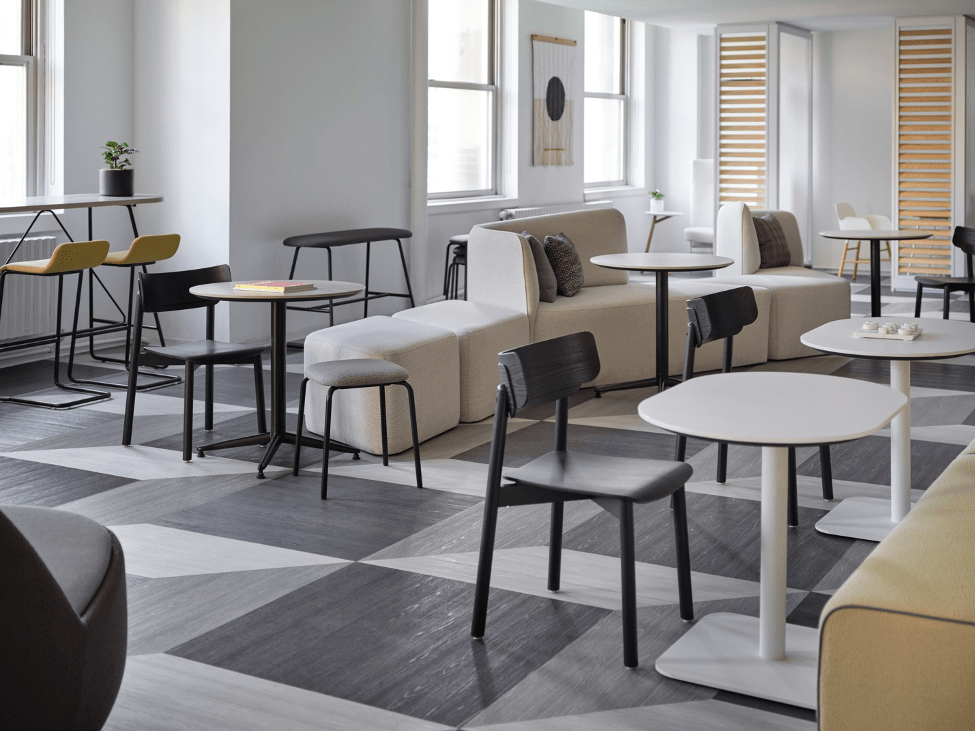 Connectivity
As the hub of a company, a well-designed break room is the perfect place to occasionally camp out and work on tasks that may require additional input. Everyone visits the break room, so the likelihood of someone popping by for a cup of coffee and taking a minute for an unplanned meeting is high.
In order to support working on a laptop as well as all of the various appliances that any good breakroom has, providing enough electrical outlets is key. Placing enough around any counter areas is understood, but don't forget to include enough around the furniture. Or better yet, incorporate electrical outlets into the furniture itself.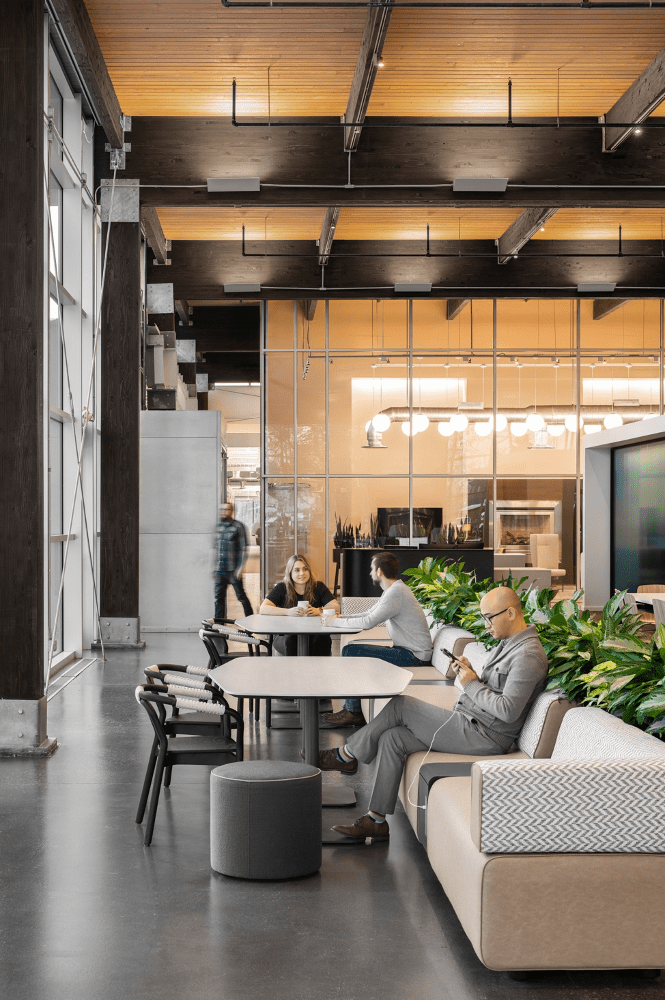 Include Color
No one wants to visit a depressing break room, no matter how many electrical outlets there are. Just like a bathroom can have a bolder aesthetic than the rest of a house, a break room can have more lively color selections than the rest of the building. After all, most of the workday is not spent in the break room.
Don't Forget Art
In addition to energetic color, the break room is a great opportunity to feature art as everyone will have an opportunity to enjoy it. Framed art and canvas prints are always solid options, but a floor-to-ceiling vinyl mural or even vinyl stripes on the wall are great ways to easily and inexpensively add some personality to the break room.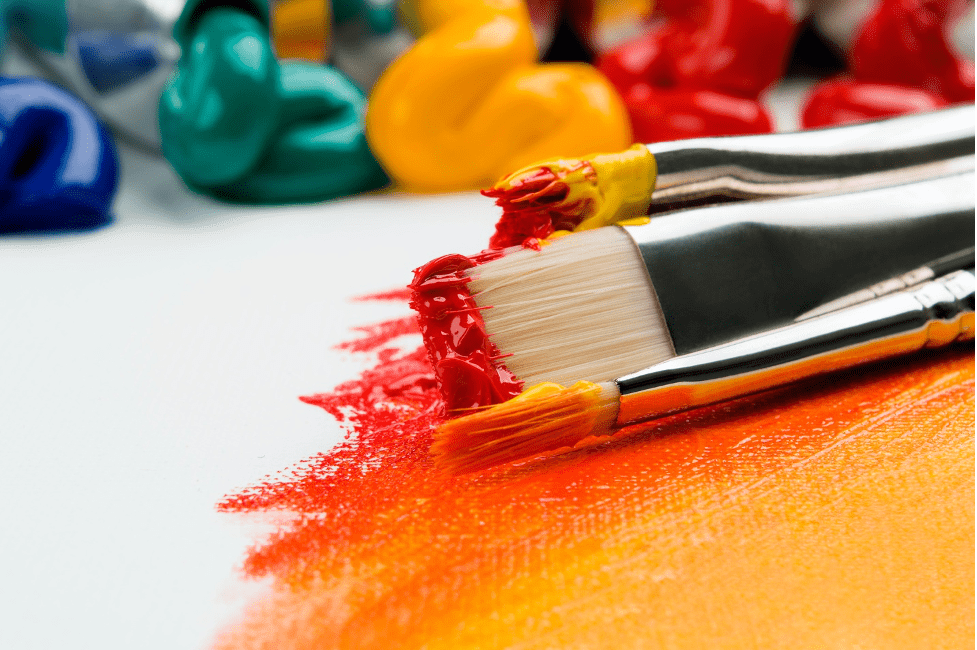 Waste Not
Ensuring a large enough waste receptacle and recycling bin that is also attractive can be a challenge, but the end result is worth it. No one enjoys a gross waste receptacle, and attention to detail matters when specifying.
Intentionally designing the break room improves employees' lives and acknowledges that the spaces they inhabit are important. It can transform from a room that everyone has to visit to a space that everyone enjoys accessing. For more information on break room design solutions or to be connected to Interior Elements, contact us today!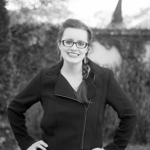 Anna Ruth Gatlin, PhD, is an award-winning interior designer and design researcher. Currently an Assistant Professor of Interior Design at Auburn University, she transitioned to full-time academia after a career practicing institutional, commercial, healthcare, and educational design.