As the world rapidly shifts in response to technology evolution, global events, and an increasing emphasis on sustainability, the built environment must shift as well. These factors mean that traditional construction—where the building is fully built from the ground up on-site—is becoming less appealing than modular construction, where much of the building is manufactured off-site in a controlled factory setting and assembled at the building site.
Modular, demountable construction offers many benefits that traditional construction is unable to. One of the biggest features is time: because of the nature of the product, modular construction can often cut a construction timeline in half. Reducing the construction timeline can have significant impact on a company's ability to increase revenues, offer necessary services to the community, and reduce the stress associated with new construction.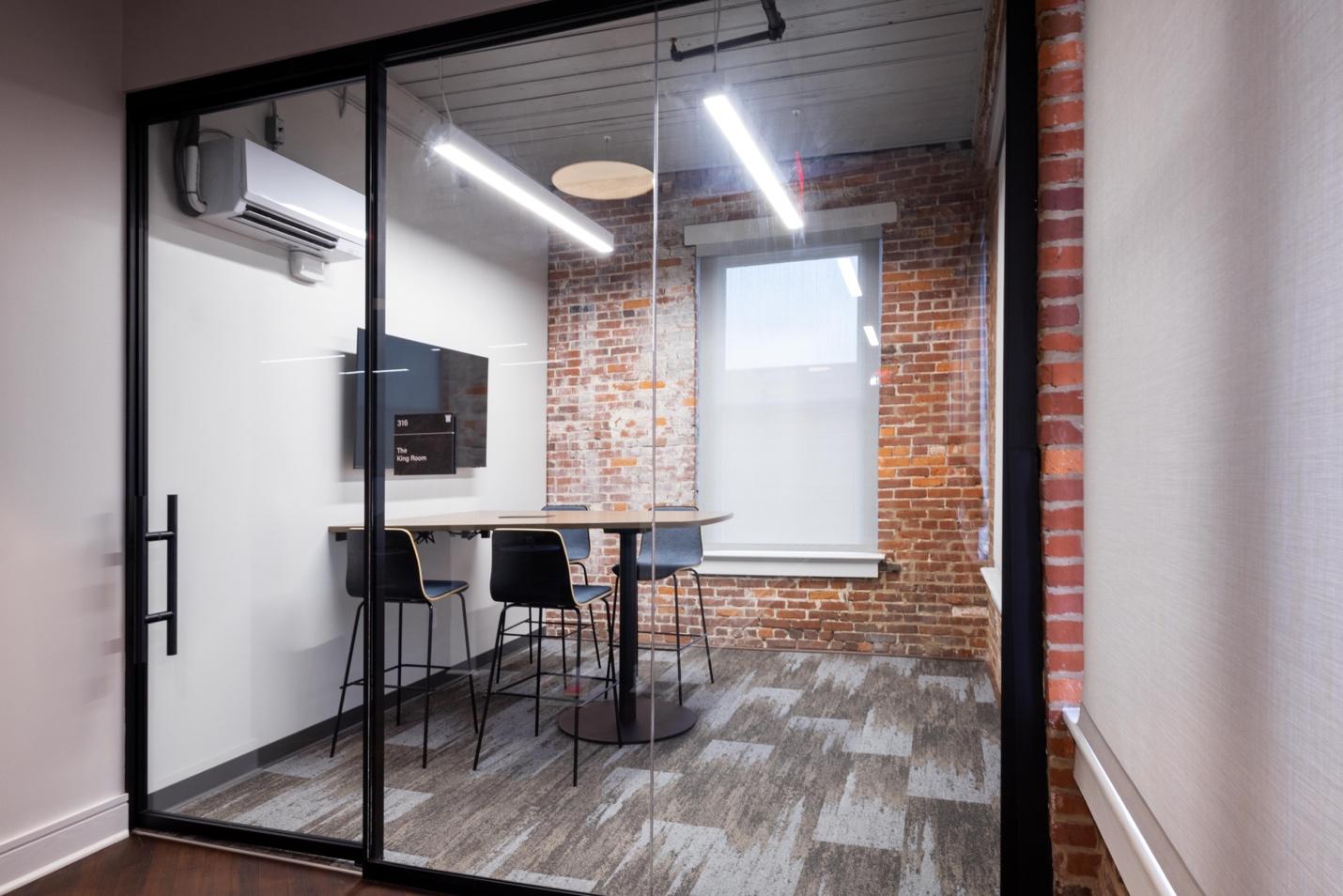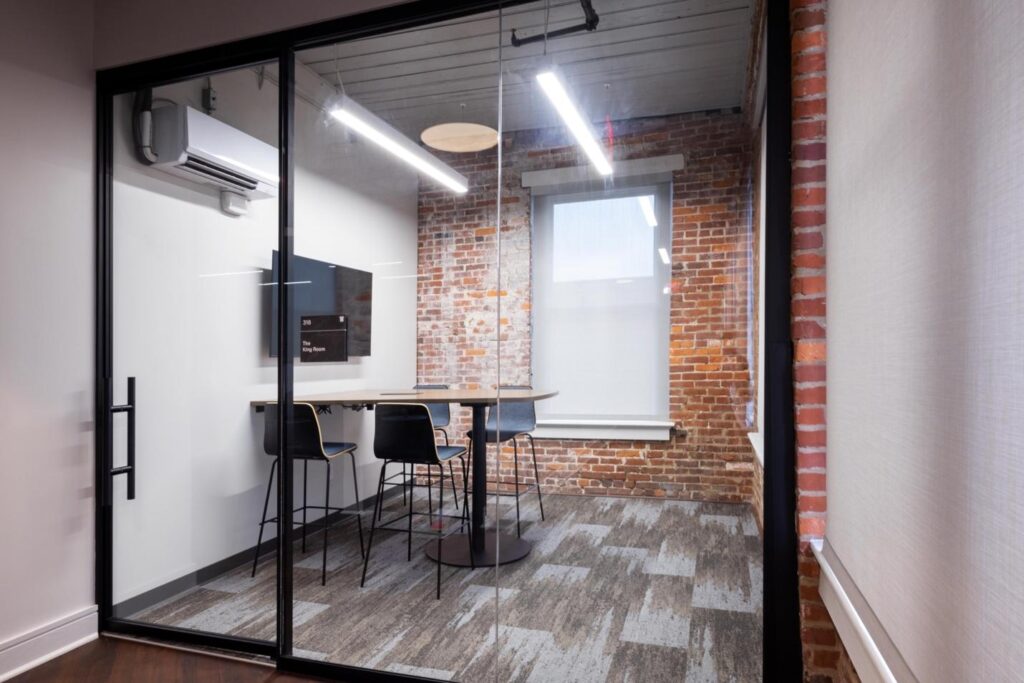 Because it's able to be customized far more precisely and creatively than traditional construction, modular construction allows for more innovative integration of technologies and design features than traditional construction. And because it's made of prefabricated and modular parts and pieces, when a design change is needed or technology upgrade is due, it's a quick process remove the necessary parts and replace with new.
Modular construction can also reduce the number of errors made on the job site. People, including contractors, subcontractors, and laborers, are human, and human make mistakes—sometimes costly ones! Because modular construction is prefabricated in controlled conditions, where regular testing and inspections are performed, mistakes are kept to a minimum. Modular construction can also be built to more precise tolerances than site-built construction, meaning that everything fits together better, and the end result is higher quality.
The precision of prefabricated parts and pieces also means that fewer materials are used and wasted. Construction waste accounts for about 40% of landfill waste, and modular construction can reduce that waste by up to 90% which is good for both the construction budget and the planet!
Modular construction also assures building owners and occupants of future flexibility. If all of the interior walls are modular, then when a company restructures or a school needs to add a classroom, a months-long renovation need not occur. Instead, the project is planned with the design firm and the modular construction dealer, and the shifting of existing walls and integration of any news ones is completed in a fraction of the time it would take just to complete demolition if the walls were traditionally built with studs and drywall.
But even with all of these benefits, if modular construction was significantly more expensive than traditional construction it wouldn't be a practical choice for most projects; however, because of its efficiency—reduced on-site labor, reduction in wasted materials, reduced errors, agility to react to change-orders, and many other factors—modular construction is on the whole much less expensive than traditional construction. In fact, with proper integration and planning, it can save the project up to 25-50%.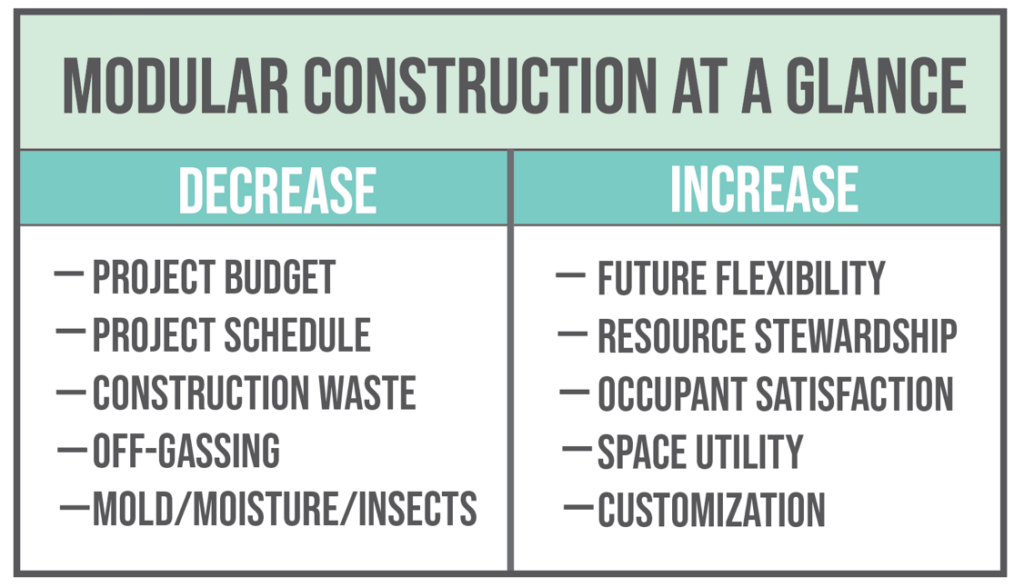 Not all modular construction is the same, though. There are a few different types, ranging from whole prefabricated buildings to individual building parts, such as partition walls. Often the best method for both new construction and renovations and expansions is to use modular construction for as much of the interior walls as possible, retaining or building the structure's shell.
This allows for trades like flooring, lighting, HVAC, and others to cut their on-site time significantly as they complete their work before the modular walls arrive, and don't need to navigate around interior walls. It also allows for fewer trades to be in the building, ensuring that work is done more swiftly and more accurately.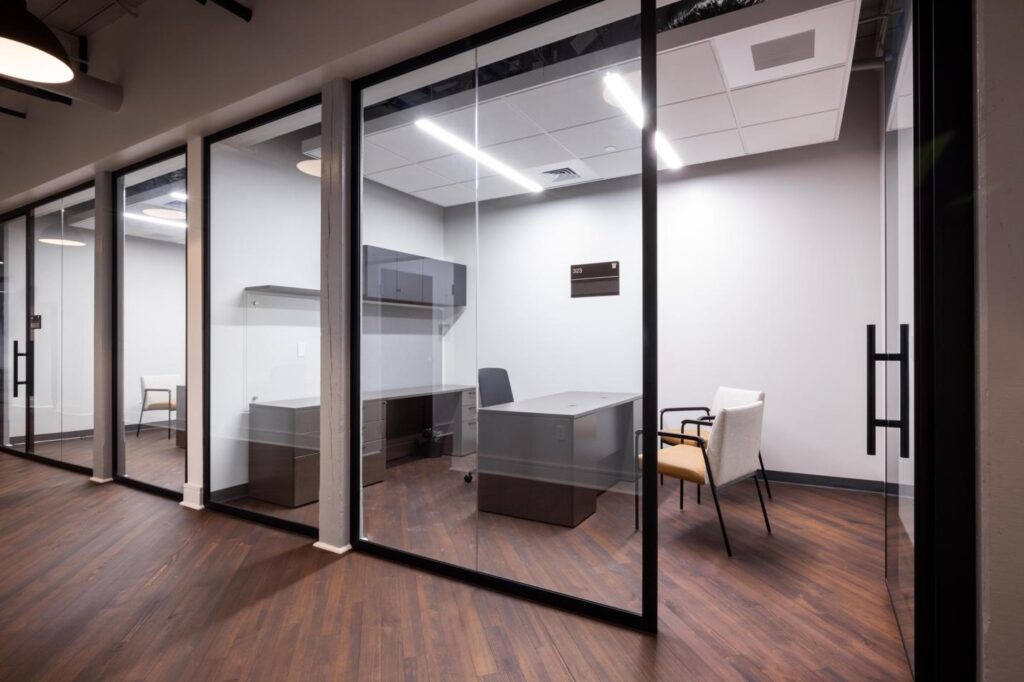 This does beg the question though: if modular construction is really so great, then why isn't it the universal construction method of choice?
It comes down to a few myths about modular construction, the lack of knowledge, and the need to plan ahead. Working with a trusted modular construction dealer who has experience and a team of top-notch designers, project managers, and supply-chain specialists can break down all of the barriers to incorporating modular construction into a project of any size, whether it's new construction, an adaptive reuse, or a renovation.
For more information on modular construction or to be connected to Interior Elements, click here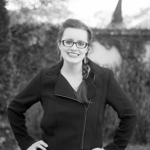 Anna Ruth Gatlin, PhD, is an award-winning interior designer and design researcher. Currently an Assistant Professor of Interior Design at Auburn University, she transitioned to full-time academia after a career practicing institutional, commercial, healthcare, and educational design.