While every healthcare facility exists to provide services and treatment to patients, it's the staff who work within with the space daily. Doctors, nurses, and techs interact with patients of course, but they also need spaces to retreat to—spaces to do heads down work, learn new skills, and a place to eat lunch and take a break.
Image of Ortho NC, courtesy of High5 Productions
Designing attractive and functional waiting rooms and patient spaces can be exciting—but staff-oriented spaces can be just as fulfilling! By including ample storage, easy to maintain finishes, training spaces, quiet areas, and break rooms, you can cultivate an intentional work environment that supports the staff who care for the patients.
Ample Storage
Providing ample storage in all spaces throughout the facility is crucial to ensuring a functional, streamlined, and easy to maintain healthcare environment. Include different types of storage in patient areas, nursing stations, quiet spaces, break areas, and even the waiting room.
Image of UAB Hoover, courtesy of High5 Productions
Not only does having what you need at hand simplify work processes, but surfaces are easier to sanitize if they're not covered in objects. Wall-mounting frequently accessed items like gloves and paper towels can be a game changer while saving valuable horizontal space.
Image of UAB Dewberry, courtesy of High5 Productions
Easy Maintenance
Specifying easy to maintain finishes that are durable and attractive is imperative in any healthcare facility. Wall, floor, and furniture finishes should be easy to maintain, so avoid selecting VCT for floors (which requires ongoing and disruptive maintenance), flat wall paint (hard to clean and shows water marks), and heavily textured upholstery fabrics (can be difficult to scrub clean). A qualified dealer-designer knows exactly what types of materials are appropriate to include in a healthcare project, making the process of finish selection smooth.
Image of O'Neal Comprehensive Cancer Center, courtesy of High5 Productions
Finishes should also be selected to be visually appealing. Even though many staff-oriented spaces aren't accessible to the public, employees need to feel valued and supported, and selecting attractive finishes is an easy way to emphasize that the staff matter just as much as the patients. For more information on material selection in healthcare setting, click here.
Training Spaces
Continuous improvement is a part of many careers, and healthcare is no different! Integrating training and multi-purpose spaces into the project allows staff to take advantage of professional development opportunities without needing to commute.
Image of Skin Wellness Dermatology, courtesy of High5 Productions
Offering educational and networking opportunities in-house is another way of communicating to the staff that they are valued as whole people, but not just as workers who clock in an out.
Quiet Space
Providing quiet spaces for heads-down work to be done is integral to ensuring accuracy and efficiency in any industry, including healthcare. While interacting with patients and other staff members is a large part of the job, paperwork is an inevitable part as well, and reducing distractions is an important aspect.
Image of UAB Dewberry, courtesy of High5 Productions
Specifying height-adjustable ergonomic tasks chairs is imperative. It's human nature—if a chair is uncomfortable or doesn't feel "right", it won't be used. And every body different, so ensure that task chairs can flex with each the user.
Not all healthcare staff are medical professionals working with patients. Many staff work in offices within the facility, so designing an office that has ample storage and worksurface, an adjustable task chair, and an adjustable height table is ideal.
Image of UAB Dewberry, courtesy of High5 Productions
Space to Take a Break
Every human needs to take a break at some point during the workday. Taking a break in a space that is attractive, functional, and includes some biophilic elements is much more refreshing—and effective!—than taking a break in a dingy breakroom with flickering fluorescent lights. Healthcare staff work very hard serving others during their shift, so providing a pleasant space to retreat to and eat a meal in is necessary.
Image of Ortho NC, courtesy of High5 Productions
Include different types of seating so that users have a choice in posture—maybe they want to stand at a bar height table because they've been sitting all day, or maybe their feet hurt, and they need to relax comfortably for a few minutes before returning to work. For more ideas on designing an effective break room, click here.
Image of Ortho NC, courtesy of High5 Productions
Designing a healthcare space to support everyone who works in it is crucial to ensuring overall success of the facility. Patients may receive better care, and turnover may decrease when investments are made into designing supportive spaces. Investing in infrastructure can be daunting—for more information on design solutions for healthcare spaces or to be connected to Interior Elements, click here.
---
About the Author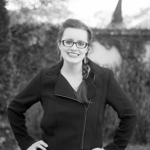 Anna Ruth Gatlin, PhD, is an award-winning interior designer and design researcher. Currently an Assistant Professor of Interior Design at Auburn University, she transitioned to full-time academia after a career practicing institutional, commercial, healthcare, and educational design.
---