If we've learned anything in the last few years, it's that educational spaces need to be agile, and able to flex with a variety of circumstances. The world is moving on from chalkboards and metal desks, designing classrooms with more thought and intention. Integrating flexible and inclusive design features can be done in a renovation, but new construction typically allows for higher-impact design decisions.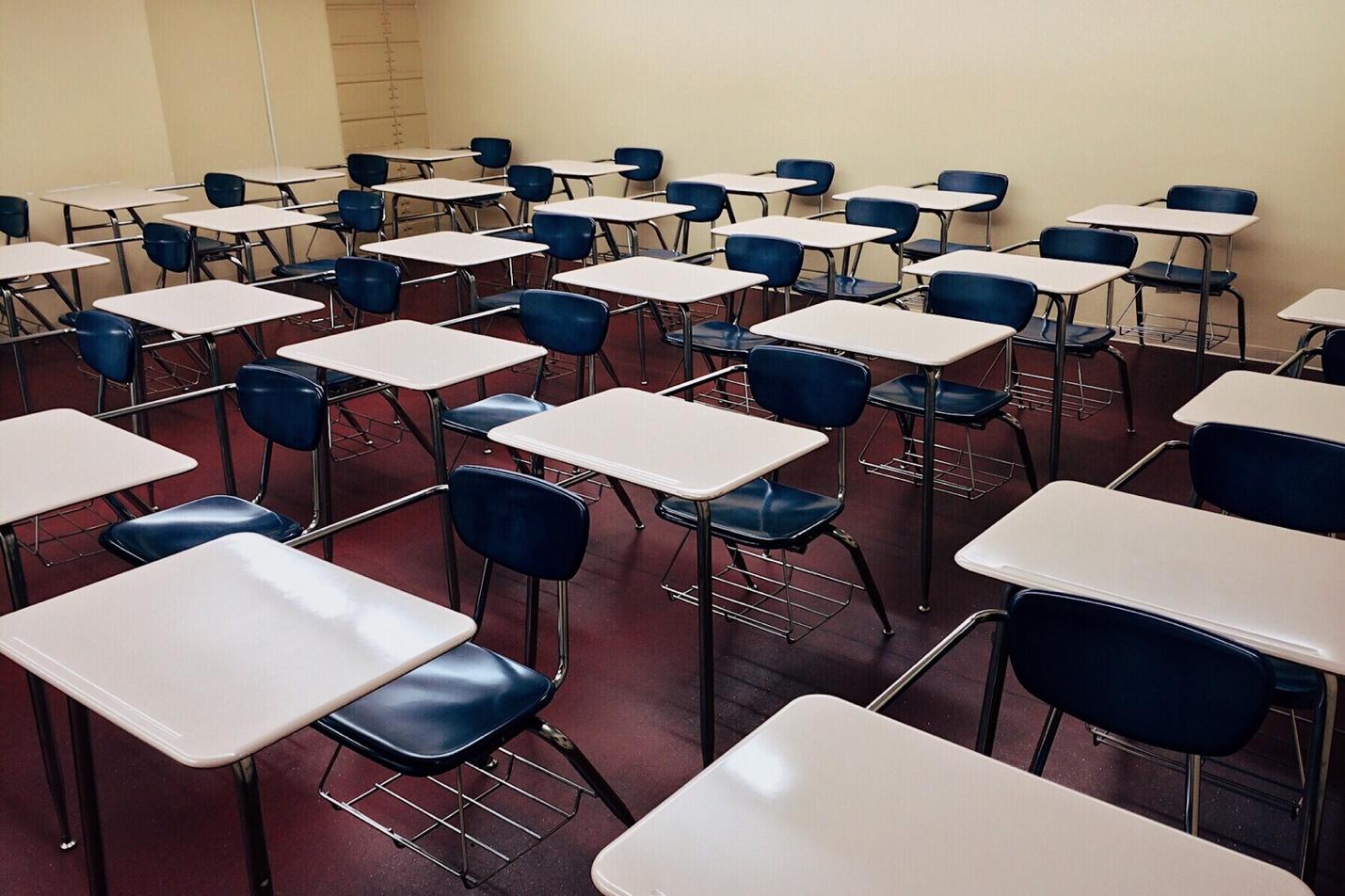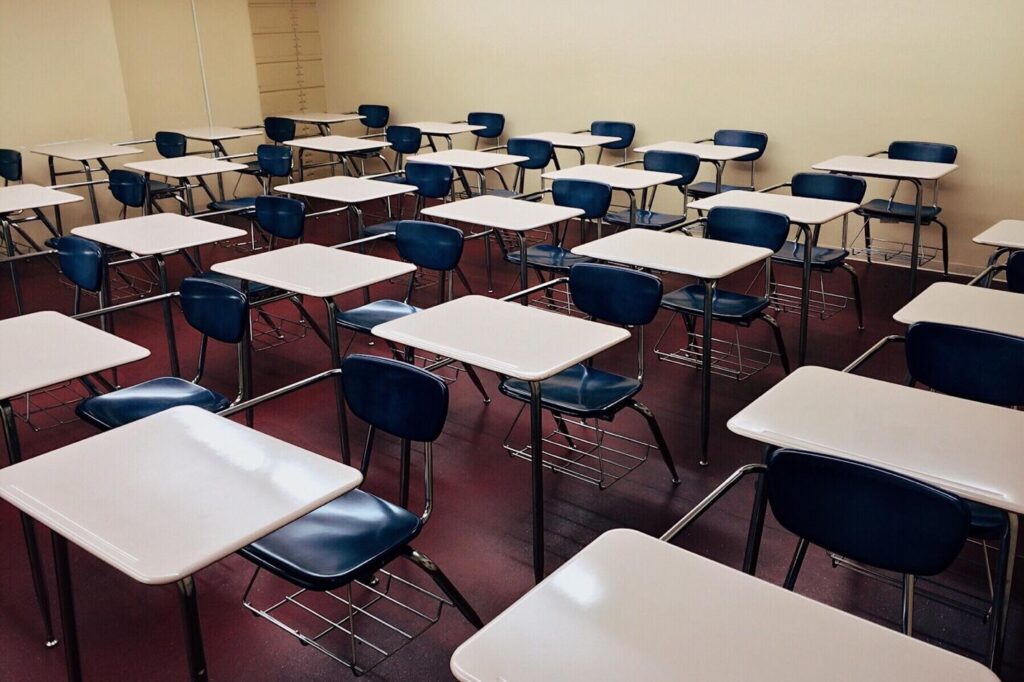 The built environment has been well-documented as having considerable impact on memory, mood, cognition, and behavior, so any design decisions should be purposeful. As with any large construction project, the design team should be selected intentionally, as they will shape the interior environment of a building designed to last decades; factors to consider in the design include classroom agility, integrating activity zones, considering acoustics, material selection, future-proofing, and designing to support wellbeing.
Agility
K-12 classrooms have to do it all: provide a learning environment for a wide variety of body sizes and types; support in-class performances and presentations; host parent-teacher conferences; adapt for several (often nonadjacent) days of standardized testing; and provide storage for a year's worth of learning materials, supplemental reading material, students' belongings, and teacher's belongings. And the classroom needs to be easy to maintain, indestructible, and (hopefully) look inviting.
Designing an agile classroom is a challenge, but with the right resources it's not only possible, but enjoyable. Specify furniture that's easy to move, is inclusive it's design, and is durable and easy to maintain.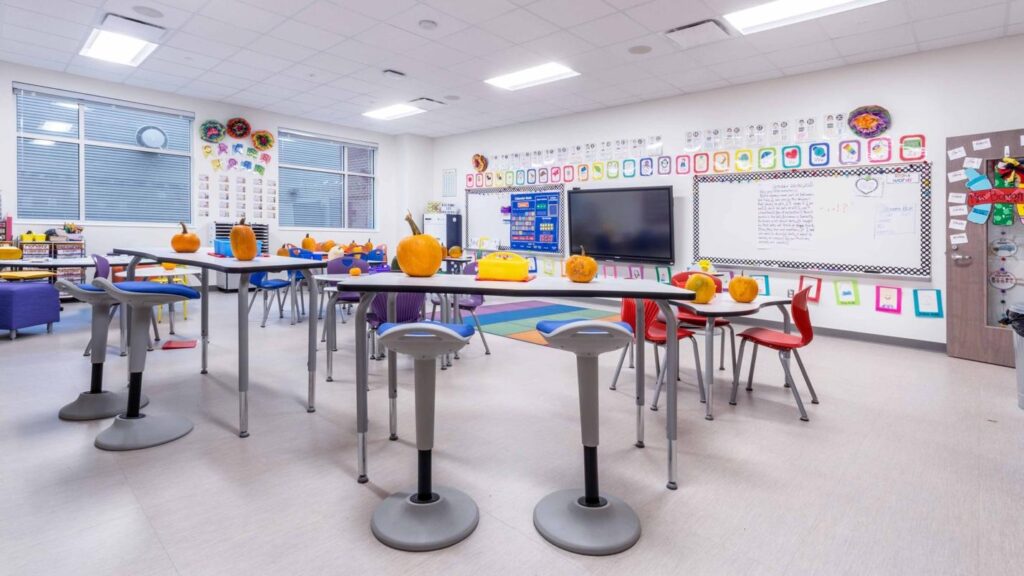 Activity Zones
Design activity zones within a classroom to support each activity routinely covered in class. Examples include a reading nook with comfortable chairs and book storage, a collaboration area for group work, individual desks for lecture and group discussion, a food/belonging storage zone, and whatever else a particular classroom requires to function on a daily basis.
Acoustics
Hard surfaces equal echoes, and even the best acoustic-tile ceiling can't absorb all necessary sound. Sound is bouncing off of hard surfaces can become distracting and make it hard to understand the lessons. Neurodivergent students can become overwhelmed by the lack of noise control; students' sense of wellbeing can be affected by noise pollution.
Some careful planning in the design phase can ensure that acoustics are better controlled. Integrating a couple of pieces of soft seating can help absorb sound, as can selection of a softer flooring material, like linoleum, cork, or carpet. Wall-mounted acoustic panels are a common method of sound control, and they can be printed with educational images to double up on utility.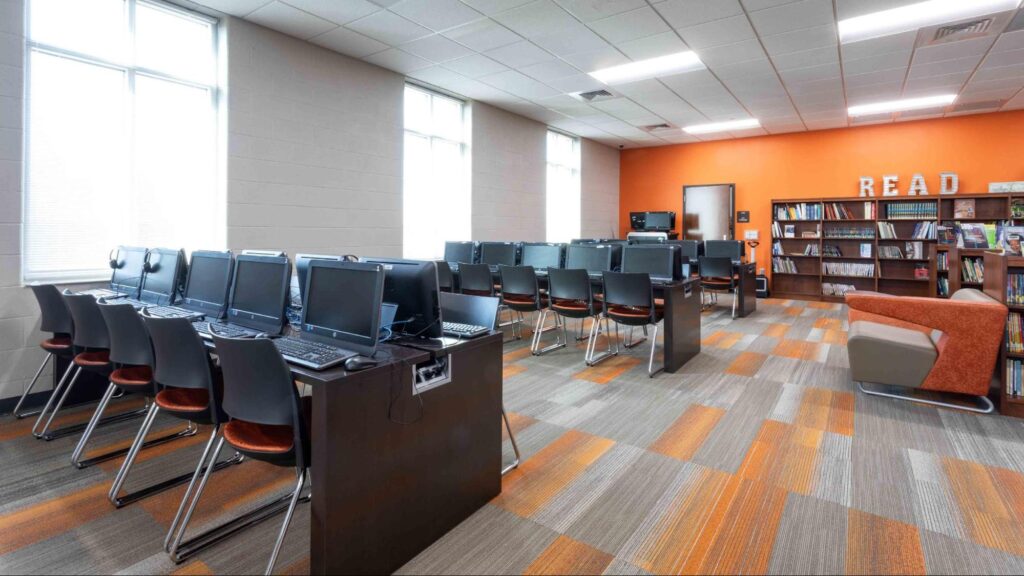 Material Selection
Material selection impacts more than just acoustics. Selecting appropriate materials can add years to the lifespan of furniture—or reduce the lifespan. Work with your furniture dealer to select materials that provide the appropriate level of durability, cleanability, and fire resistance.
Consider color selection carefully as well. Strong, bright colors can be used effectively, even in small doses. Colors that are too light may require more frequent cleaning. Always request to see physical samples of finish materials to see the exact color and texture of the material.
Future-Proofing
The world is changing faster than ever–ensuring that classrooms don't become obsolete within a couple of years of being built or renovated is vital to good stewardship of school resources. Rather than investing in furniture and fixtures that support a single type of technology, invest in technology-agnostic pieces: furniture that can flex with whatever technological innovation develops.
Wellbeing
It's clear that feelings of wellbeing have a direct impact on student cognition, memory, and mood—and that the built environment affects feelings of wellbeing. So why not invest in wellness features that can significantly impact student outlook and performance? Ideas include bringing nature inside the classroom with planters, integrating natural colors and materials, and carefully planning supportive natural and task lighting. For more information on integrating wellness features into classroom, click here
Invest Well
Design decisions from the 1960s still affect students today: seemingly small choices can have long-term impact. Designing spaces and purchasing non-residential furniture is an investment and should be approached with intention and careful planning.
For more information on design solutions for a K-12 classroom, classroom furniture options, or to be connected to Interior Elements, click here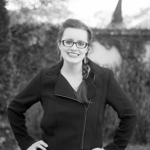 Anna Ruth Gatlin, PhD, is an award-winning interior designer and design researcher. Currently an Assistant Professor of Interior Design at Auburn University, she transitioned to full-time academia after a career practicing institutional, commercial, healthcare, and educational design.